A magical display of twinkling lights inspires festive cheer in many of us. It's a custom that goes way back to when trees were decorated with candles to represent the light of Christ, though today, many of us put on impressive shows in celebrations of all shapes and sizes and for all causes.
We've come a long way since perching naked flames on our tree branches - a fire hazard that seems unbearable today! Luckily, we have moved on, and for many years, we relied on incandescent fairy lights to create our winter wonderlands. However, in recent years, LED lights seem to have swooped in and taken over our Christmas trees for good.
So, what exactly are these techno-savvy lights? We investigate the benefits of LED Christmas lights to find out more...
What Are LED Lights And How Do They Work?
'LED' stands for 'light emitting diode', a technology that has been used for decades in things like digital clocks, television sets and even traffic lights. In a nutshell, and without getting too technical, they differ from older incandescent bulbs because they are 'solid state devices' that do not rely on heat to generate light. This results in a number of benefits that can save money, help the environment and much more!
Top 5 Benefits Of Using LED Christmas Lights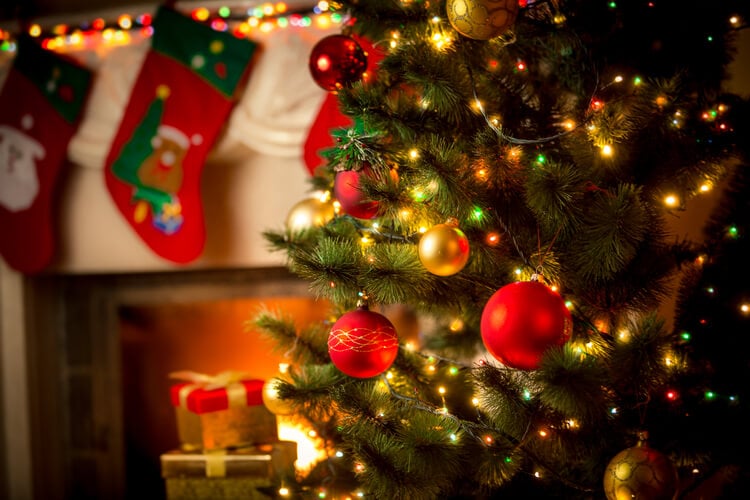 1. LED Christmas Lights Last Longer
If you are still using incandescent Christmas lights, we would bet Santa your last glass of milk and mince pie that at least one bulb will blow out before Christmas Day!
Unlike old fashioned bulbs, which rely on a fragile filament that is at high risk of breaking, LED lights are much more reliable. In fact, in tests they were still going strong after 4,000 hours with little more than a flicker, while incandescent bulbs were out of the game before just 2,000 hours of action were up.
The parts used to create LED lights are much harder to break and are enclosed in a tough exterior, so you can pretty much guarantee they will last until Boxing Day and beyond.
2. You Can Save On Your Energy Usage...
One of the biggest benefits of LED lights is their low energy consumption. This is down to they way they produce light. As we mentioned before, LED lights do not generate light through creating heat - a method that can waste a staggering 90% of energy used!
LED Christmas lights are incredibly energy efficient, though if you want to go really green this Christmas, you can even buy solar powered string lights for both indoors and outdoors, meaning your display needn't cost the earth at all. LED lights are also usually recyclable at your local recycling centre and do not use the same potentially toxic substances as older styles of filament lights, making them all-round more environmentally-friendly!
3. ...And On Your Christmas Spending!
It has been said that the average UK household can see their energy bills rocket by up to £50 in the month of December. LED lights can make sure that your Christmas decorations are not one of the biggest burdens, thanks to their low electricity consumption, which is around 33% less than filament bulbs.
You can also find LED lights with built-in timers, which switch off your lights for you incase you forget, meaning you won't find yourself accidentally running your energy bill up overnight.
And, while they might have a slightly higher purchase price than the cheap and cheerful filament bulbs of the past, you are almost sure to save money on your energy bills and for the future - not only are they cheaper to run, but the durability of LED Christmas lights means you probably won't have to replace them for many Christmases to come!
4. LED Lights Are Much Safer
Saving money is all well and good, but safety should be top of the agenda during your Christmas celebrations. While many of us are in party mode, house fires are twice as likely to happen over the Christmas period, and old filament fairy lights were often the culprit.
Incandescent bulbs can become very hot to the touch due to the heat they produce, and, if a fault occurs, this can potentially engulf a real Christmas tree in flames within a shocking 40 seconds. LED lights stay relatively cool no matter how long you leave them on, making them a much safer option.
The fire department advises that if you do have a real Christmas tree, you keep it well watered, and ensure you check your lights for faults regularly. LED lights are far less likely to see a fault, and paired with a fire retardant artificial Christmas tree, are an easy way to give yourself peace of mind against any accidents over Christmas.
5. LED Lights Come In All Shapes And Sizes
Despite being around for a few decades, LED lights weren't immediately picked up as Christmas decorations due to the limited colours they could produce. However, today they have a fantastic selection to choose from, putting filament fairy lights to shame!
Unlike older styles of lights, which simply depended on a white light behind a coloured filter, one of the benefits of LED lights is the bright and vibrant colour they can produce. You can even get colour changing LED lights that flick between colours within one bulb, plus connectable lights, meaning you can string multiple pairs together without overloading your sockets.
LED Christmas lights also come in all sorts of shapes and sizes, with an array of multifunctional light options available - whether you want flashing, twinkling or ambient fades, you can set the mood and get as creative as you wish! See our cluster lights, icicle lights and chaser lights for a few ideas. Our Battery operated LED lights also mean that you aren't limited to your light sockets anymore, so you can sprinkle some festive flair wherever you like!
It doesn't end with strings of lights either. Our LED blossom trees make a beautiful addition to your decorations with all the same benefits, while our pre lit LED Christmas trees come ready strung for you to reap the benefits of LED Christmas lights with minimum fuss!
Whether we have convinced you to upgrade or you have already seen the light, browse our full range today. Suitable for both indoors and outdoors usage, it's a miracle we ever got by without the benefits of LED Christmas lights!
Time For More?
How to Save Your Business Money This Christmas | Best Fibre Optic Trees For Bay Windows | This Is How Much Santa Eats on Xmas Eve [Infographic]