Naturally, we are big believers in the benefits of an artificial Christmas tree. Indeed, there will be no sweeping up pine needles all season for us here at Christmas Tree World!
However, if we had to pick a downside to artificial Christmas trees, it may be that there are so many styles and options that you can struggle to choose which one to go with.
To help you out this season, we have put together our 'nice list' of the best artificial Christmas trees for 2018. As experts in all things Christmas tree related, we think our top picks are among the best, so get ready to kick off your Christmas decorating with a brand new artificial Christmas tree this year!
Here are the best artificial Christmas trees 2018 at Christmas Tree World. Read on to find out more about them...
Most Realistic Artificial Christmas Tree
We know that some people are just too attached to the real thing to consider an artificial Christmas tree. However, the mix of PE plastic moulded and traditional PVC branch tips of the Ultra Mountain Pine may just be able to convince everyone to try faking it with a realistic Christmas tree this year.
This bushy Christmas tree boasts big branches with plenty of hanging space, so don't be afraid to stock up on baubles! Available in heights of up to 10ft, it's perfect for filling up a large room, though our range starts at 4ft for those looking for something smaller.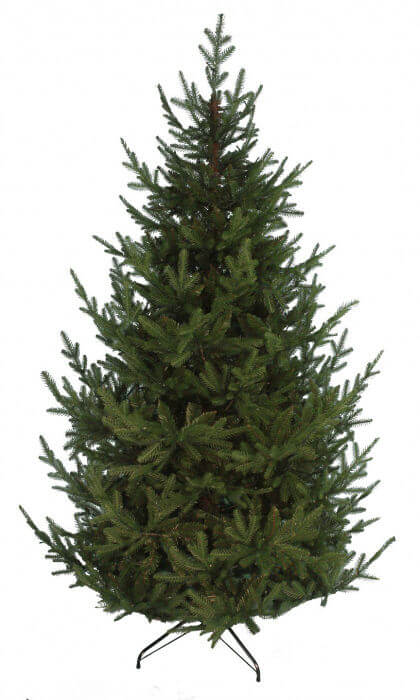 Best Pre Lit Christmas Tree
Once you have made the switch to a pre lit Christmas tree, we would safely bet that you'd never go back to untangling fairy lights again. Our Pre-lit Ultra Mountain Pine tree is pre-strung with warm white LED lights - the benefits of which are many - and boasts fabulously realistic PE branches with ready-to-go sparkle built-in to light up your spruce.
With your lights sorted, you can focus all your attention on arguing whether or not to add tinsel to your tree - or, you may want to go completely minimalist for 2018 and leave it bare to fully appreciate its twinkle.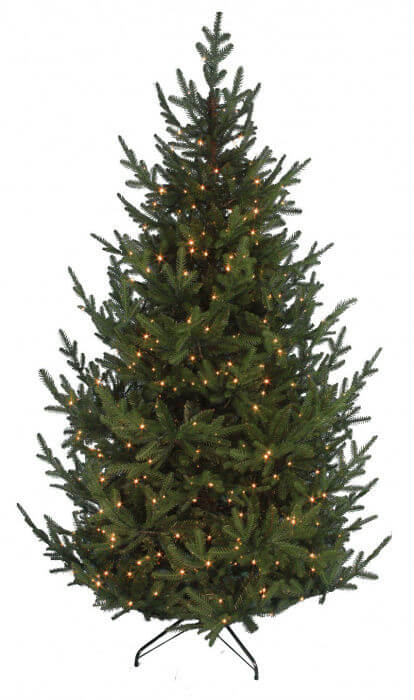 Best Flocked Christmas Tree
A snow effect or flocked Christmas tree is the perfect way to add an extra special finishing touch to your decorations. With a festive wintery look, our Flocked Ultra Mountain Pine features a light dusting of frost for added elegance.
Christmas trees with snow look beautiful dressed in silver, gold and icy blue, or even with a bold purple or red theme, so don't be afraid of trying one out to update your decorations for Christmas 2018!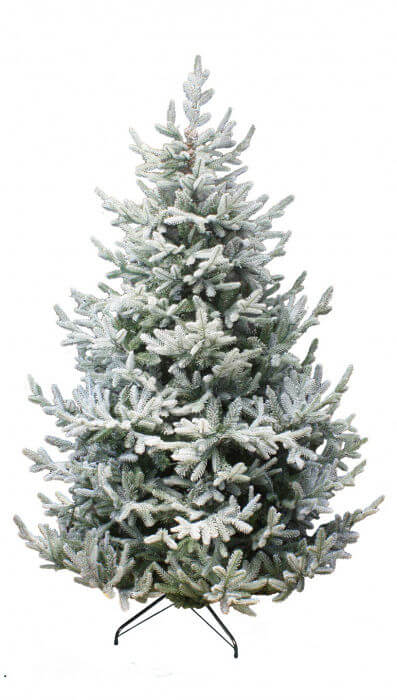 Most Magical Tree
If you really want to go all out with a frosted Christmas tree, our Pre-lit Flocked Ultra Mountain Pine promises to do the job. A beautifully realistic pre-lit and pre-flocked tree, this pick of the best artificial trees for 2018 is perfect for bringing a little enchantment into your home.
Offering the ideal base to create a true winter wonderland, we would love to see this tree filled up with metallic baubles, opulent glitter ornaments and oversized fir cones - of course, though, the choice is up to you!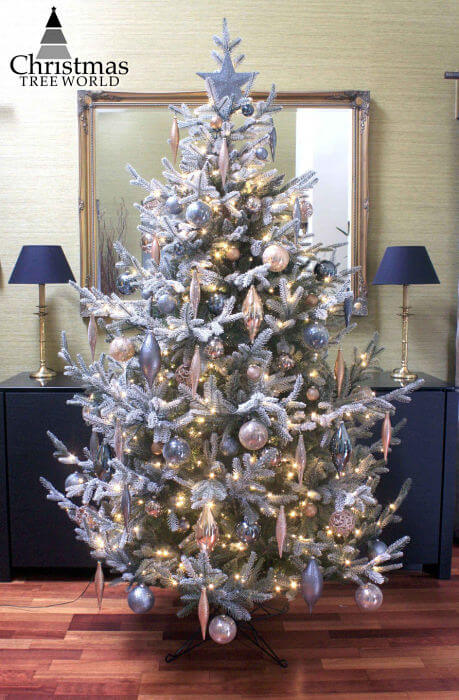 Best White Christmas Tree
White Christmas trees are the perfect blank canvas for many of the best Christmas tree looks of 2018. Get in on the ombre trend with a spectrum of baubles shades and fade them from top to bottom, or keep it simple with timeless muted tones - our Pre-lit Bianca Pine Tree with Warm White Lights tree is the perfect place to start.
Available from 3ft to 10ft, everyone can enjoy the bushy branches, pre-strung LED lights and super easy assembly of one of our best artificial Christmas trees for 2018.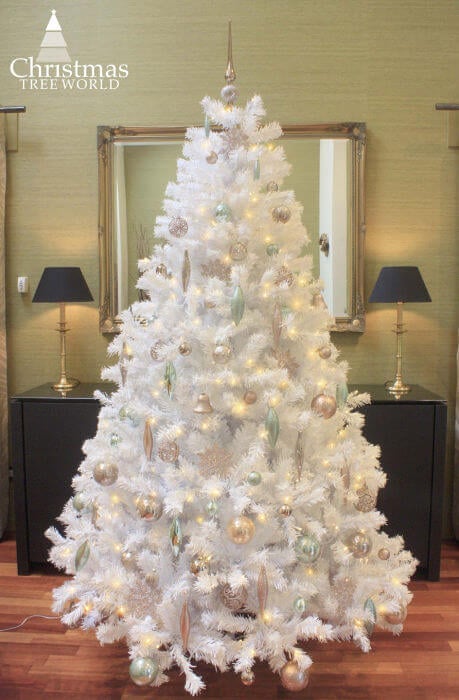 Best Slim Christmas Tree
A slim Christmas tree is perfect for small rooms. Our Pre-Lit Slim Woodland Pine Tree also boasts our natural-looking PE branch tips, making it both realistic and convenient. Whether you have a tight corner you want to squeeze it into, or simply want maximum room for presents, this is one of the best slimline Christmas trees for 2018.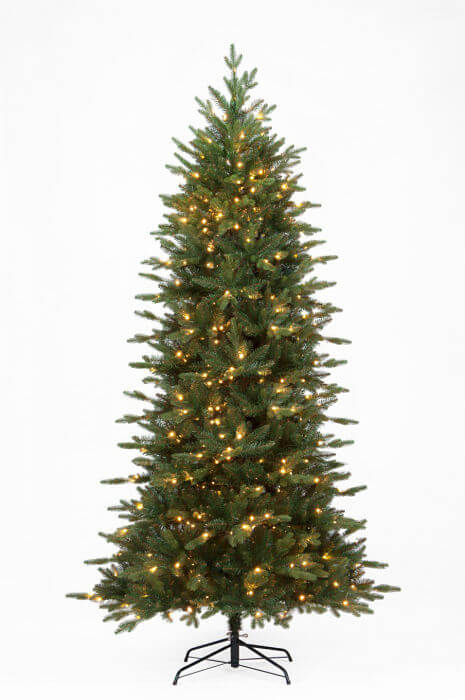 Most Impressive Fibre Optic Christmas Tree
There are Christmas tree lights, and then there is the stand-out sparkle power of the 6ft Vesuvius Fibre Optic Fir! If you want a fibre optic Christmas tree, you won't be disappointed by the super-lit, colour-changing LEDs lighting up the 140 branches of this aptly named tree!
Whether you want to brighten up your home, impress your customers or give your office something to keep spirits up, this is one of the best artificial Christmas trees to make a statement with.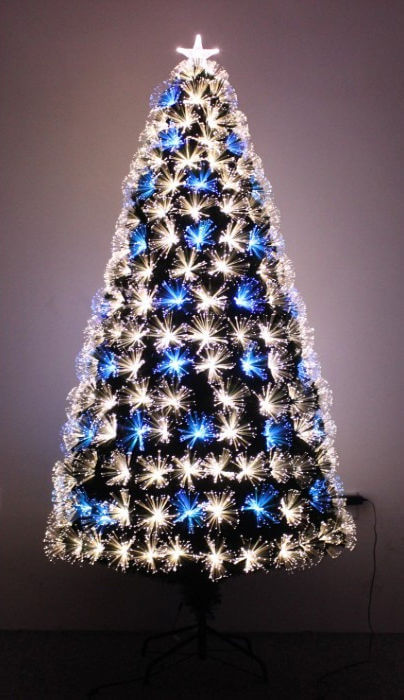 Best Small Christmas Tree
Small Christmas trees often get overlooked. However, we are proud to put forward our 3ft Outdoor Frosted Fir as one of the best artificial Christmas trees 2018. Suitable for outdoors, these charming mini trees sit in their own little silver pot to set a truly festive scene.
They also feature ultra realistic moulded tips, a light frost effect and pine cone decorations - why not sit them outside your doorway with some solar powered LED lights for a grotto-like welcome to your home or business?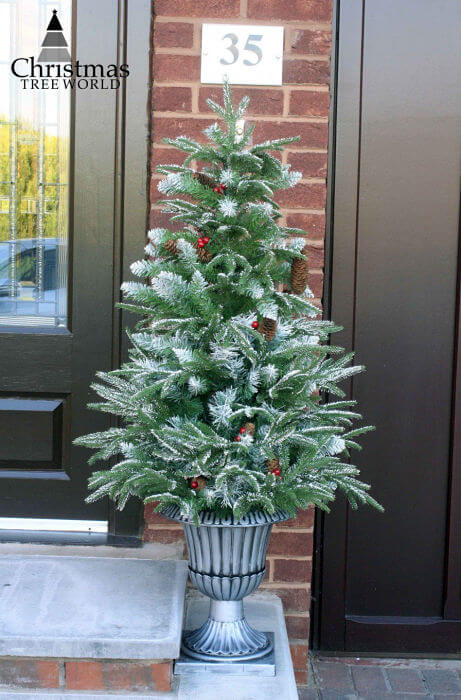 We hope you are inspired by our list of the best artificial Christmas trees 2018 - see more in our full range or contact our team if you would like any more advice.
Don't forget, all of our artificial Christmas trees are offered with a 10 year guarantee and free delivery when you spend over £30, too.