Christmas is supposed to be a time of cheer and joy, a time to get together with family and friends and eat, drink and be merry.
However, many of us will attest to this not always being the case. Sometimes Christmas means slightly fraught and tense atmospheres, and tempers can become frayed - especially after a glass or three of eggnog!
Here at Christmas Tree World, we've conducted some research into what grinds our gears at Christmas and what's most likely to cause tempers to fray around the dinner table.
Take a look at the graphic below to see what's going to make our blood boil this festive period...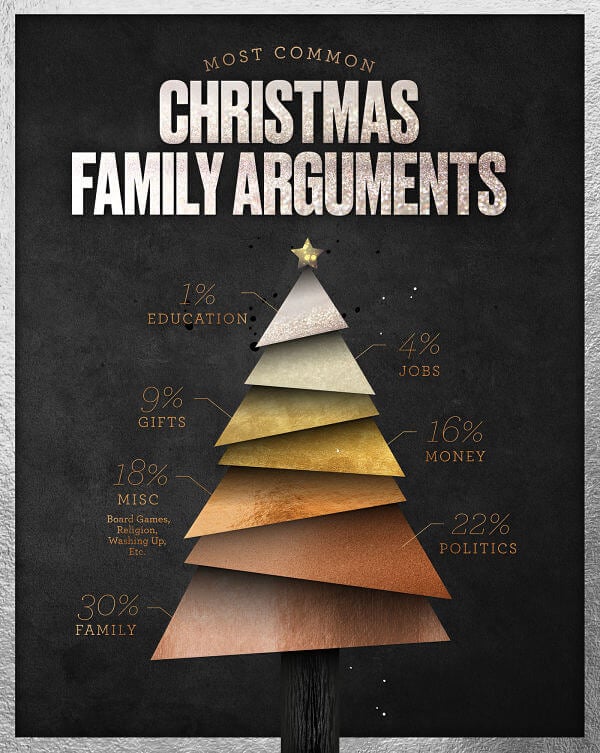 As you can see, it's our family who cause us the most irritation at Christmas, with 29.6% of arguments being caused by our nearest and dearest in some form, whether that's not going to see certain people or other family squabbles.
The next highest cause of arguments is (unsurprisingly) politics of some kind (21%). Politics, whether it's Brexit, Donald Trump or any other type of political discussion can be particularly explosive at the moment, and one in five of us can expect it to crop up at some point this Christmas - we're not here to judge, we just sell Christmas trees!
Money can also be a touchy subject over Christmas, and 17.3% of us will argue about it at some point over the yuletide season.
According to the survey, other sources of tension this Xmas are likely to come from gift buying, education, and employment discussions.
If we look at the age divide in what arguments we're likely to have, the stats get even more interesting. Younger people, aged 18-34, are more likely to argue about politics and money, whereas there's a higher chance of those aged 34-44 arguing about family matters.
Here at Christmas Tree World, we hope your Christmas is as argument-free as possible!