Some may think that Christmas trends are the same each year, and that people just stick a Christmas tree in the corner, throw up some garlands and be done with it.
However, you might be surprised! Christmas trends do in fact differ from year to year. Here, our very own Stephen Evans, managing director at Christmas Tree World, comments on the top Christmas trends for the home this year.
Have you noticed how, with each passing Christmas, life seems to get more hectic? But Christmas is the high spot in the dull, dark and long winter, and the lights, tree, decorations and, of course, the parties help to lift our spirits. It's a time to look forward to a time full of traditions.
One of the great traditions of Christmas is the Christmas tree, and with all the rush of modern life we have noticed a trend towards ease and speed.
People also want the most realistic Christmas tree possible, without all the faff of a real tree. The modern artificial trees with ultra realistic PE tips (these are tips moulded from real pine needles) and Pre-Lit branches (these are trees already strung with LED lights) can save you hours in decorating the home and give you that perfect designer look, even if you are not artistic.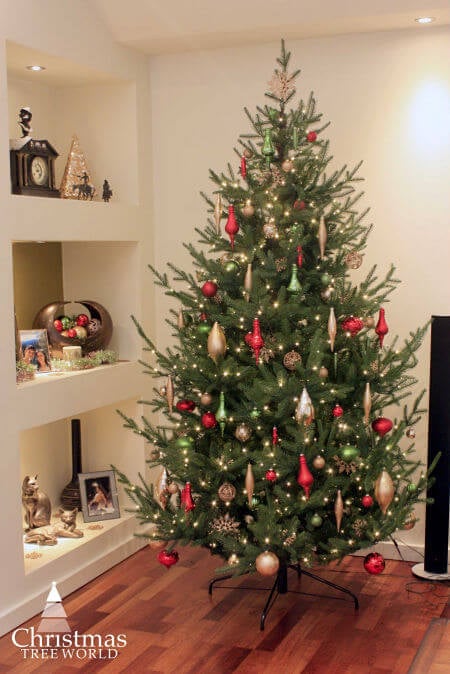 Hey, there's still a place for the more traditional hook of artificial tree like the Mountain Pine and the Arbor Vitae especially if you want to be creative. The Pre-lit Ultra Mountain Pine and the Ultra Devonshire with a bit of branch fluffing will give instant and spectacular results.
For an even more dramatic effect and Christmas wow factor, there has been a real upsurge in the popularity of flocked Christmas trees. Covering a tree with white flock gives the impression that it has just snowed and can create a really special ambience in a room. They look great in modern style flats and homes, the white of the tree contrasting with popular grey silver and black decor.
Again pre-lit versions like the Pre-lit Flocked Ultra Mountain Pine which are professionally strung with lights give that ultra realistic feel, but very popular are the Snowy Scots Pine and the Snowy Alpine Trees. However, if you want something that will take your breath a way, look at the Snow White Fir.
No matter what look you go for this festive season, each of these trends will transform the home and capture the true magic of Christmas. Make sure to choose your tree and Christmas decorations in good time, otherwise the right size for your home may have already sold out.
Christmas Tree World is one of the UK's premium artificial Christmas tree suppliers providing unique and realistic decorations to provide a truly magical Christmas for all the family. All Christmas Tree World trees come with a 10-year warranty and free UK delivery.