For football fans, there's no better time of the year than Christmas. They squeeze in as many games as they feasibly can, which means while we're gorging on turkey sandwiches and mince pies, barely a day goes by when we can't watch a match.
But who comes out on top of this infamously 'busy Christmas period'? It might not be who you think!
Based on data from the past six seasons and analysing results from games from the middle of December until the New Year, it turns out that Tottenham Hotspur are the highest points earners in the Premier League.
The Premier League table over that period may throw up a few surprises:
Tottenham Hotspur - 74 points
Man City - 73 points
Chelsea - 69 points
Man United - 68 points
Arsenal - 62 points
Liverpool - 58 points
Bournemouth - 50 points
Leicester - 47 points
Everton - 46 points
Burnley - 46 points
Huddersfield - 44 points
Brighton - 41 points
Fulham - 38 points
Cardiff - 38 points
Newcastle - 37 points
West Ham - 36 points
West Brom - 36 points
Watford - 35 points
Crystal Palace - 34 points
Southampton - 29 points
Southampton are the worst performing team over Christmas, accumulating just 29 points over the 6 seasons.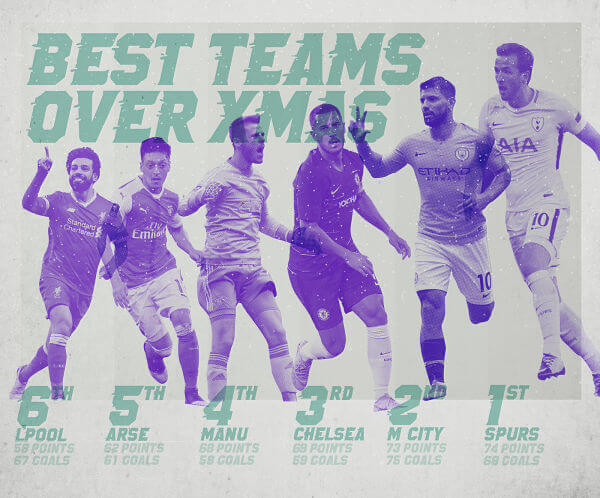 However, Spurs aren't the top scorers in the league. That accolade goes to Man City, who have scored 75 times over Christmas. Crystal Palace are the most frugal scorers, netting only 30 times. The top scoring teams are:
Man City - 75
Spurs - 68
Liverpool - 67
Arsenal - 61
Chelsea - 59
Man United - 58
The top individual scorer during that time is Spurs' Harry Kane, netting 17 goals, which would go a long way to explain their good festive form. Romelu Lukaku was second with 13 goals, scored during his time at Everton, Manchester United and a loan spell at West Brom. The top scorers are:
Harry Kane - 17
Romelu Lukaku - 13
Yaya Toure / Olivier Giroud / Theo Walcott - 11
Sergio Aguero - 10
Of course, before you sit down to watch the footy, you need to get the festive setting just right. Don't forget to check out our artificial Christmas trees and Christmas tree lights!