Branch Fluffing
At Christmas Tree World, we want you to make the most out of your artificial Christmas tree. In a few short steps, you can transform your tree from average to outstanding. Are you ready to 'wow' your guests this Christmas? Read on.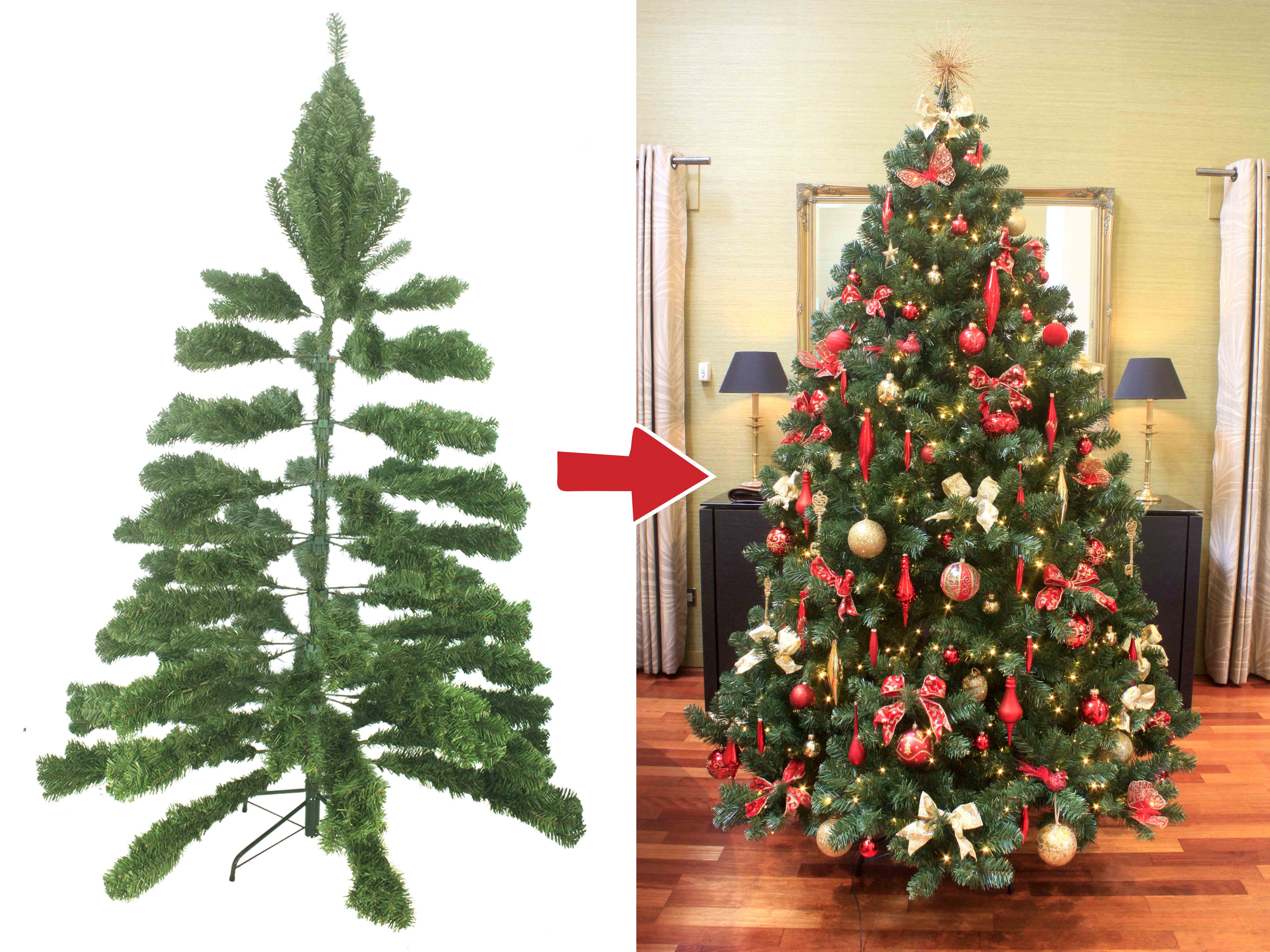 When you receive your Christmas tree, you'll notice that it is tightly packed into its box. This makes it easier for you to store your tree, and also ensures simpler transit. On the other hand, it means that the branches must be fanned out upon unpacking. This is where you can get creative.
How long does it take to tweak my branches?
On average, it should take a single person less than 30 minutes to tweak the branches on a 7ft Christmas tree. However, as with any decorating practice, we've found the more care and attention put into tweaking the branches, the better the results so bear that in mind as you shape your tree.
As for installation, that's simple. The branches on a hook-on style tree are colour-coded so it's easy to see where you need to hook them onto the centre pole. For attached/hinged branches, the hooking is all done for you, so the branches should fall into place once the centre pole is erected.
The example to the left shows the effects of tweaking branches on our bestselling 7ft Arbor Vitae Fir Tree. While this is a hook-on branch style tree, this practice can be applied to any style or any sized tree; once you've got the tweaking tricks right, you'll soon find that everything else falls into place.
You don't need to be a treehugger to know to fluff out your branches yourself. Just follow these easy steps below to give your tree a full and busy look the first time around:
Start with the branches with are both lowest on your tree and closest to the centre pole. Gradually work around each layer, moving towards the front of your tree as you go.
Lift one branch tip and wrap it back around the pole of the branch. This gives the inside of your tree a layer of depth and expertly hides the internal framework.
In groups of 2 or 3 branch tips, lift each one individually on a 45-90° angle and spread evenly, like a peacock's tail.
This example highlights the effects of a single fluffed out branch on a center pole. Here, you can see how the branches, while they appear compact on arrival, cover a much larger area than you might expect. Once fluffed, you'll get a tree that has a realistically thick coat of foliage.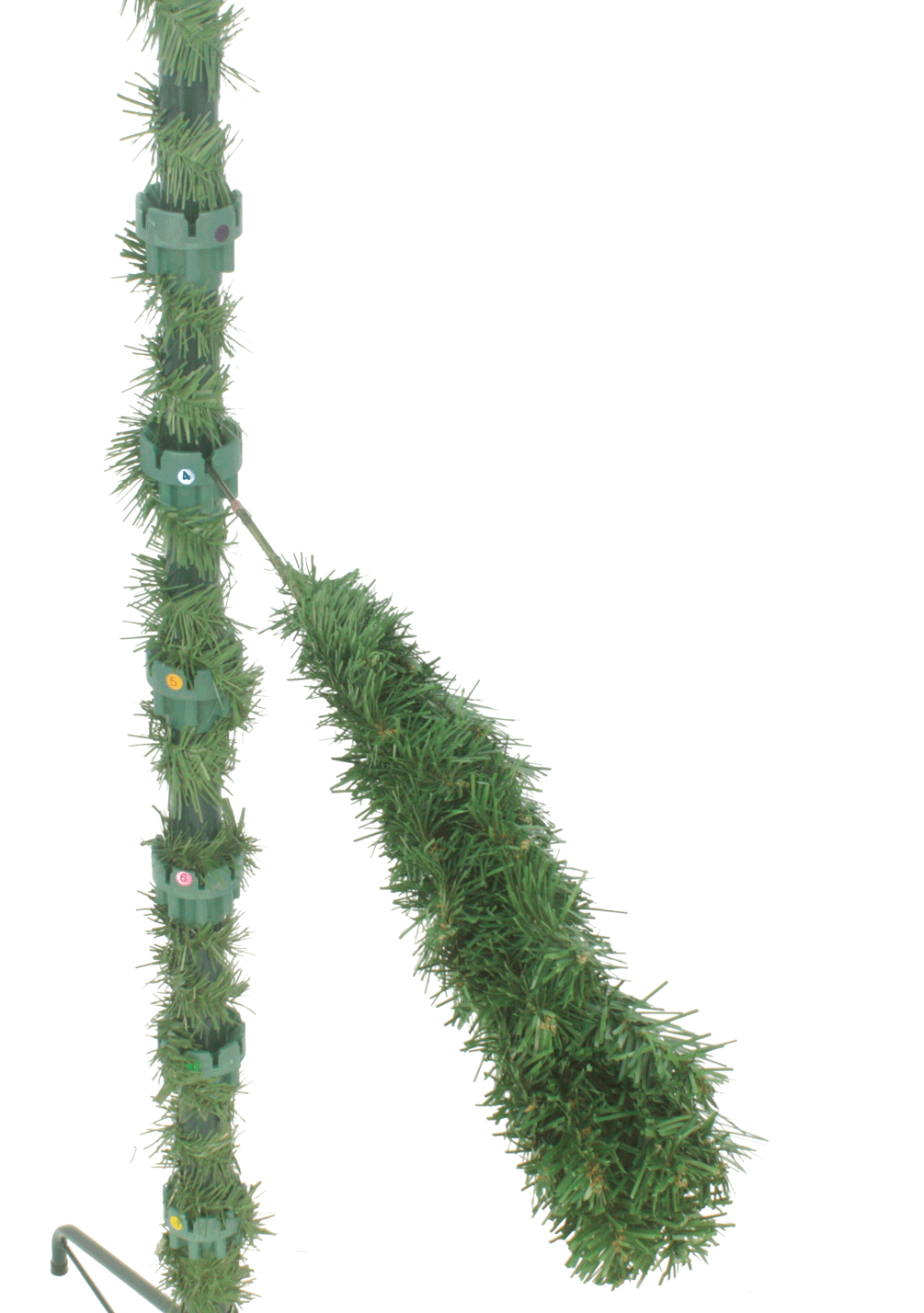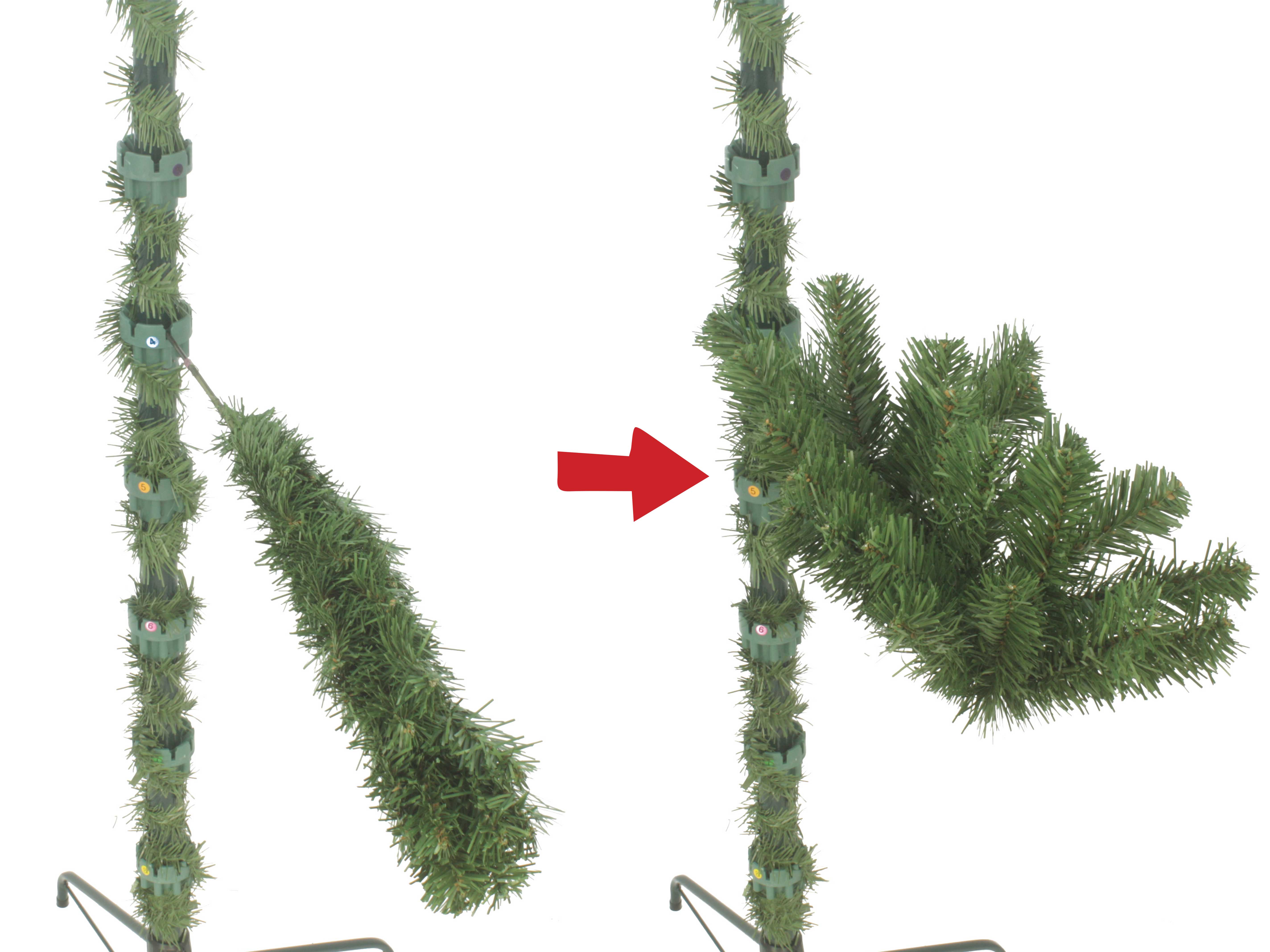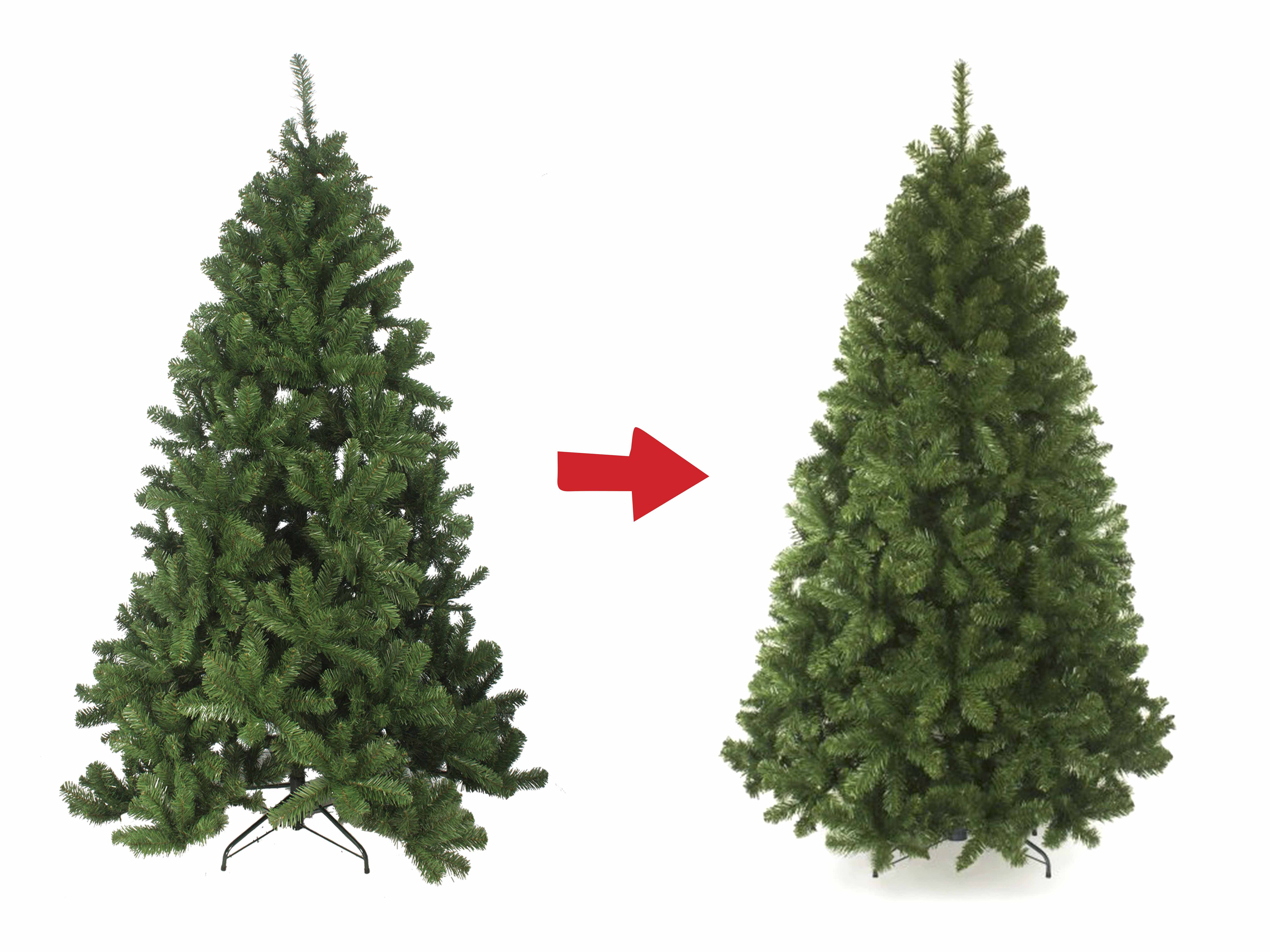 Once you have finished fluffing the last branch, one of the most important stages is to stand back and look at your tree for any possible gaps and to look at the overall shape.
View it as if you were a guest, entering your lounge, or a passer-by viewing your tree from the street. From here, you should look at where there are any gaps and adjust any branch tips accordingly.
If your tree is against a wall or tucked into a corner, we suggest that you pay the most attention to the branch tips on the rear side. This helps to add shape and fullness to the front of your tree.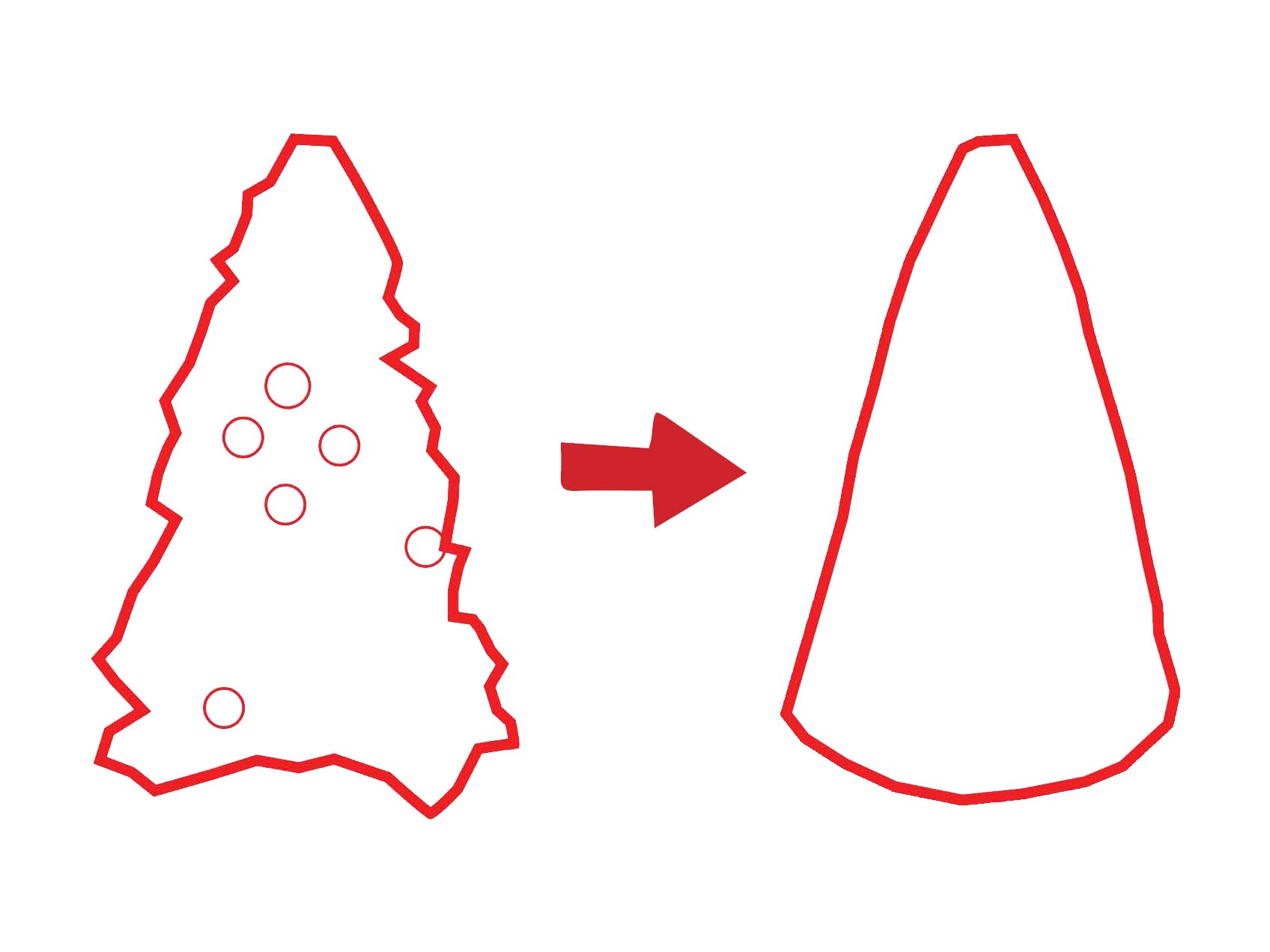 How to fluff Christmas tree branches like a pro
To see how it's done, take a few moments to look over our tree fluffing video.
In this video, Thor, our expert Christmas Tree Merchandiser, shows you how to easily tweak the branches on our popular 7ft Ultra Devonshire Fir Tree. However, remember that this technique is versatile - it can be applied to any of our trees, in any size, so don't worry if this isn't the tree you have chosen.
Customer Examples
Want to try before you buy? Take a look at our customer photos or customer tutorials to see how your tree will look when it has been expertly fluffed and tweaked. What's more, these pictures are not submitted by interior designers or tree decorators by trade - they're simply Christmas lovers, just like you!
For answers to any of your tree tweaking questions, just give us a call or send an email to one of our elves for assistance. Happy Christmas!