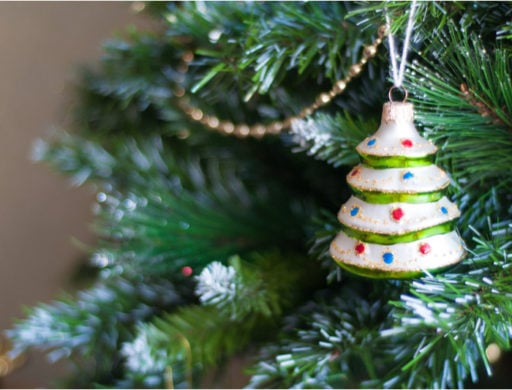 Once you've bought your Christmas tree, you want it to look picture-perfect, complete with lights, baubles and tinsel.
Decorating the tree can be a fun family event, taking up an afternoon or evening while watching a festive film. For many, it's a true sign that Christmas is here - time to get in the holiday spirit.
Before you unbox your Christmas tree decorations, you need a plan. That's where we can help! If you've decided which of the many Christmas tree ideas you are creating this year, this guide will help you with the next steps.
So how do you decorate your artificial Christmas tree? Christmas Tree World is here to help with all the Christmas tree decorating ideas you need, from tree toppers to picks, tinsel and lights. We'll also cover where to start when decorating your Christmas tree and how long it should take to decorate a Christmas tree?
How to decorate a Christmas tree:
Put it up and fluff the tree branches
Select a Christmas tree theme
Add your Christmas tree lights
Add your tree topper first
Add tinsel if you're using it
Then add important decorations
Decorate to your heart's content
Add a Christmas tree skirt
Just add your Christmas presents
That sounds pretty simple, doesn't it? But decorating artificial Christmas trees can be tricky, so we've gone into more detail on how to decorate a Christmas tree below.
Read our step-by-step guide on creating a beautiful Christmas tree this festive season:
Step 1: Set up your Christmas tree and fluff the tree branches
Once you've bought or unpacked your tree from storage and put it together, you need to fluff the branches to make your tree look fuller.
Take your time to spread every branch out and refer to our product imagery for shape. This ensures you achieve that picture-perfect look we all strive for at Christmas time. If you need any help, read our branch fluffing guide for more information.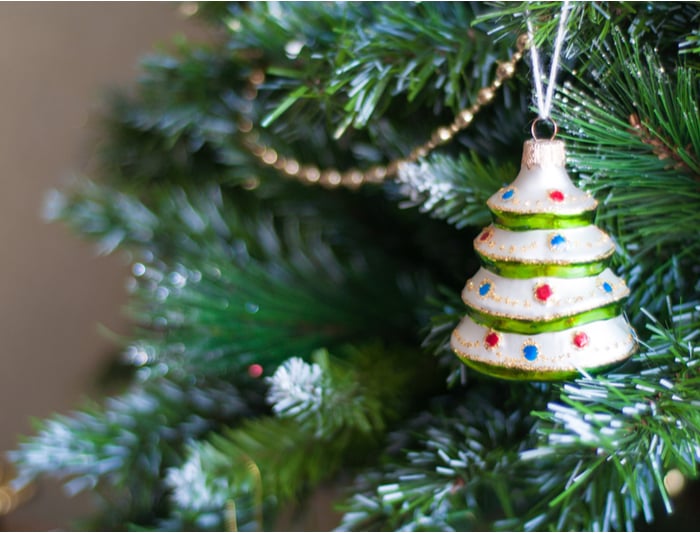 Our full and bushy Christmas trees are perfectly designed to hold Christmas tree decorations and Christmas tree lights. Unlike some other trees, our high-quality artificial Christmas trees are sure to last for many years to come and have a 10-year foliage guarantee for your peace of mind.
When buying an artificial realistic Christmas tree, you need one with as many branches as possible, just like the trees at Christmas Tree World. This will not only make it look fuller, but you will be able to add more decorations and unique touches for extra volume.
Step 2: Design your Christmas tree around a theme
To decorate a Christmas tree, it's important to have a theme and colour scheme - if you're in doubt, stick to the basic colours.
Traditional red and gold Christmas baubles work well, while silver and blue Christmas baubles create a wintery look. For a minimal style, white with silver and traditional wooden Christmas tree decorations always works well.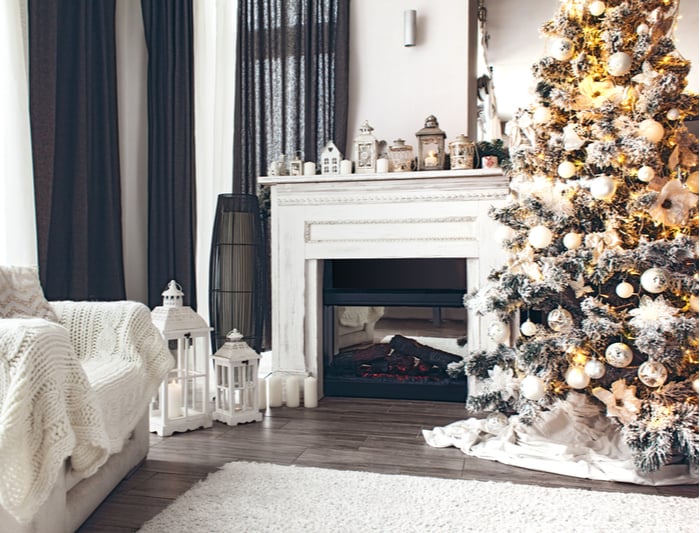 It is important when coming up with a theme to consider your tree, especially if you've bought a white Christmas tree or black Christmas tree.
There are always new colours and themes to try at Christmas. If you have bought a more contemporary tree try contrasting colours, such as neon or bright shades to create an eye-catching display.
Step 3: Light it up with Christmas tree lights to complement your theme
If you've bought an unlit Christmas tree, this is where you string your Christmas tree lights on. If it's a pre-lit Christmas tree, you can skip this part and enjoy some mulled wine instead.
Lights are an integral part of how your Christmas tree looks. The best way to place your lights onto a Christmas tree is by switching them on first. This way, it's much easier to know how your tree will sparkle.
If you're using older lights, it also gives you a chance to check the bulbs first to make sure they're all working. If not, you can invest in some new sparkling LED lights to illuminate your tree.
Make sure you have enough Christmas lights to wrap around each layer of branches, starting at the bottom and working your way up to the top.
Tip: A good rule is 100 lights for every foot-and-a-half of tree, so a 6 foot artificial Christmas tree will need 400 lights.We've got a full guide on the number of lights you need for your Christmas tree, just in case. You can also use our Christmas tree decoration calculator to find out how many decorations you need for your tree.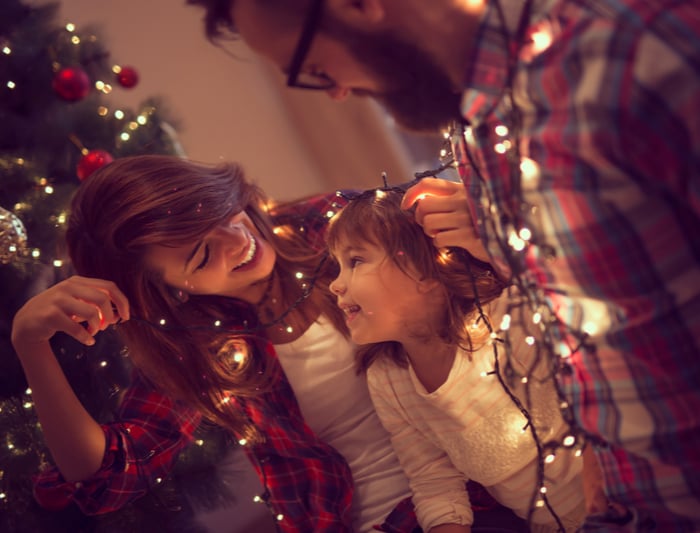 Your lights should sit closer to the trunk than the Christmas tree decorations to create a warming glow peeking through the branches. It is important to consider the colour of your LEDs, from multicolour Christmas tree lights to warm white Christmas tree lights, as this will make a big difference to your twinkling Christmas display.
Most lights work with any decoration, but if you are going for a cooler, winter look, warm white or blue will be best.
At Christmas Tree World, you'll find a wide range of LED lights for indoors as well as outdoor Christmas tree lights.
Step 4: Top it off
Now it's time for your tree topper, the crowning touch of your Christmas centrepiece. You may think it's odd that we're recommending you start with this, but sometimes it can be difficult to secure your topper once you've already decorated the rest of the tree. It also helps you work out how to position some of your higher decorations.
There are the traditional, religious-based toppers of a star or angel, which always look stunning atop the tree. However, if that's not for you, don't worry!
Snowflakes, Father Christmas, slogans, birds, photos, family crafts - they can all be a tree topper. Just remember that the topper often sits on top of the least stable branch, so consider its weight first. You don't want it toppling off!
Step 5: Go to tinsel town
If you're using tinsel, this is the time to put it on your tree - always before your decorations and ornaments to avoid the tinsel snagging.
Tinsel is a simple and easy way to add colour to your tree, but it's best to use it sparingly. You don't need to overload your Christmas tree with it. You want to actually see your tree underneath!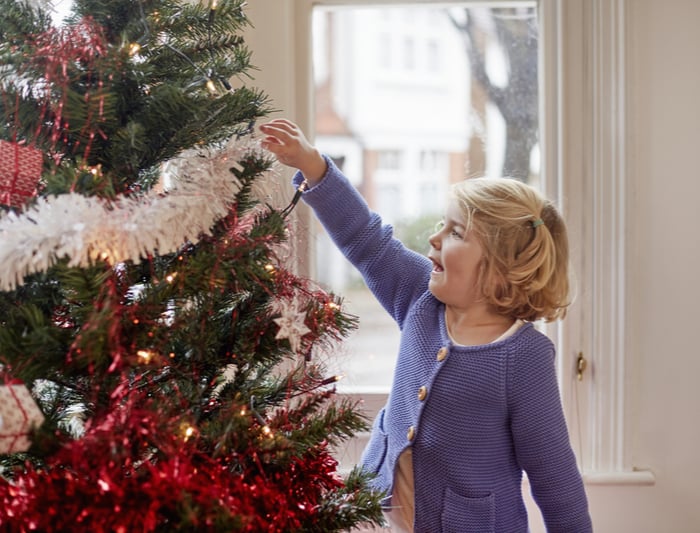 Try using tinsel on every other level of your tree but drape it in and out of branches so it looks like a wave shape. Alternatively, use one very long piece of tinsel from the bottom to the very top of the tree. A little tinsel can go a long way!
If you have extra or small pieces, use them to decorate tabletops or fireplaces. You could even look at our tinsel pop up Christmas trees.
Step 6: Add your key ornaments
Now you've covered your Christmas tree with your base layers, you're ready to hang ornaments. We'd suggest starting with your favourite Christmas tree decorations before you go to your others.
You want to give these Christmas baubles and ornaments pride of place and find the best branches. We'd usually suggest placing your more expensive baubles higher up, to avoid them being damaged. If any of these are on the heavier side, you'll want to choose a strong branch and allow for a bit of a drop underneath.
Step 7: Decorate your tree to your heart's content
Time for the main event and the fun part - adding the baubles to your Christmas tree.When hanging baubles, it's best to start from the inside of your tree and work out. Start with plain-coloured baubles as a base as these are your core baubles. We offer a range of base decoration sets for 6 foot, 7 foot and 8 foot Christmas trees and a range of handpainted Christmas tree bauble sets to make things easier. Try using different sizes for flair and visual appeal.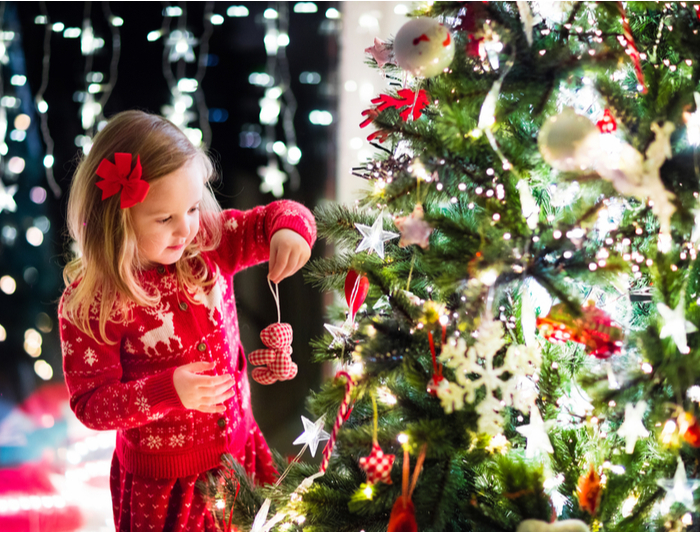 These plain baubles - often from a large Christmas tree decoration set - are finished in mirror-polished, matt or even glitter, and make your bolder and more expensive decorations pop when added afterwards. Hang larger baubles closer to the tree's centre for more depth.
At this stage, you may also want to add picks or ribbons to your tree. Carefully layer your ribbons through the tree and consider using ribbons with a wired edge so they hold their shape better.
Step 8: Add a Christmas tree skirt
Decorating your Christmas tree isn't just about sparkling lights, pine cones, tinsel or ornaments. The right tree skirt can make or break your tree! If you're using a heavier wooden Christmas tree skirt, this is the key time to do it. If you're using sacking or material, you may want to do it at the end.
Step 9: Add your presents under the tree
It's time to finish your tree decorating with the best bit; the presents! If you've planned well, you've matched your wrapping paper to the theme you chose for your decorations. Carefully piling up presents around the base will naturally draw attention to your Christmas tree, turning it into a magical festive display.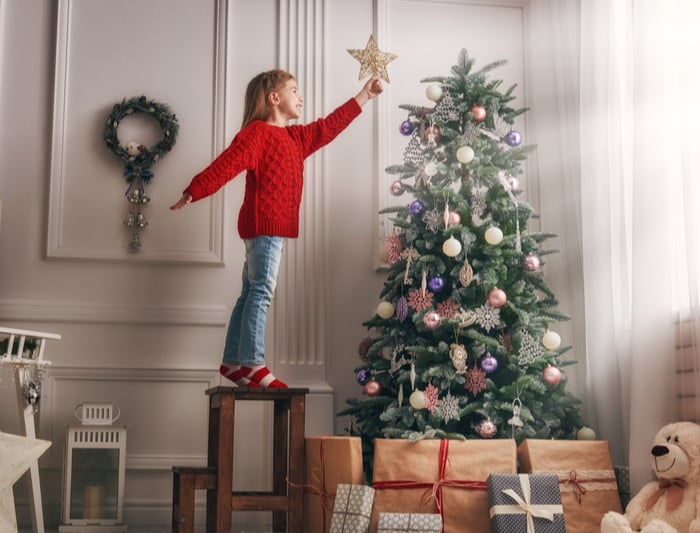 Top tips for decorating your Christmas tree
Just to wrap things up, here are Christmas Tree World's top tips for decorating the tree:
Take your time fluffing the tree, do each branch individually
Choose and stick to a theme for your Christmas tree with a defined colour scheme
Start stringing your tree lights on from the bottom and work upwards
Wrap your tinsel from the bottom and work up the tree
Have core baubles - buy a set which matches your theme
Consider the weight of your tree topper before placing it
Add a Christmas tree skirt and presents to the bottom of your tree to create a seamless finish
How to make your Christmas tree look fuller
It's important you spend plenty of time making your branches as full as possible at the start. We appreciate you wanting to get on with the more fun parts, but if you fluff and shape the branches of your artificial Christmas tree properly, it won't matter so much if you don't have quite enough decorations. To do this, carefully separate each branch and fluff out the needles.
In addition to carefully spaced decorations and lights, try adding picks to your tree. When you use a few together, tied with floral wire, you can elevate the look and feel of your tree without relying on additional branches or baubles. They can make an artificial Christmas tree look full and stunning. You can also use leftover picks for your Christmas wreaths or Christmas garlands too.
How to put lights on a Christmas tree
There are four ways to hang lights on Christmas trees. Depending on your preference, these include where your lights start and end and where your plug is. Each arrangement will provide a different look to add sparkle to your Christmas tree.
From top to bottom
From bottom to top
Horizontally
Vertically
For a more in-depth look at how to put lights on a Christmas tree to create a stunning, picture-perfect display, check out our guide.
We hope this helped you learn how to decorate a Christmas tree - we're sure your tree will look magical, ready for Christmas! If you'd like more tips this Christmas, read the Christmas Tree World blog.
You can browse our entire Christmas Tree World range here.If you'd like to learn more or tailor-make your tree, speak to our team today.