There is no more appropriate time to watch the pennies than during the festive season. What with presents for the kids and relatives, as well as the hefty sums spent on the Christmas dinner (last year some "last-minute" supermarket turkeys were sold at a mind-boggling £40.00!), checking that you're getting the most for your money when you buy your Christmas tree is imperative.
So which type of tree will save you the most cash – a real or an artificial Christmas tree?
Longevity
Whilst real Christmas trees look mind-blowing when they're first assembled, they're unlikely to stay looking so pristine for the entirety of the Christmas period. They're likely to lose their lustre fairly quickly, and are highly likely to discard their needles upon first assembly – this can make a fantastic Christmas tree look incredibly sparse and sad.
Artificial Christmas trees don't have to deal with the problem of needles shedding or colour weakening as they are designed with the recipient in mind - Christmas Tree World only use the best manufacturers with quality materials for top quality, long-lasting trees.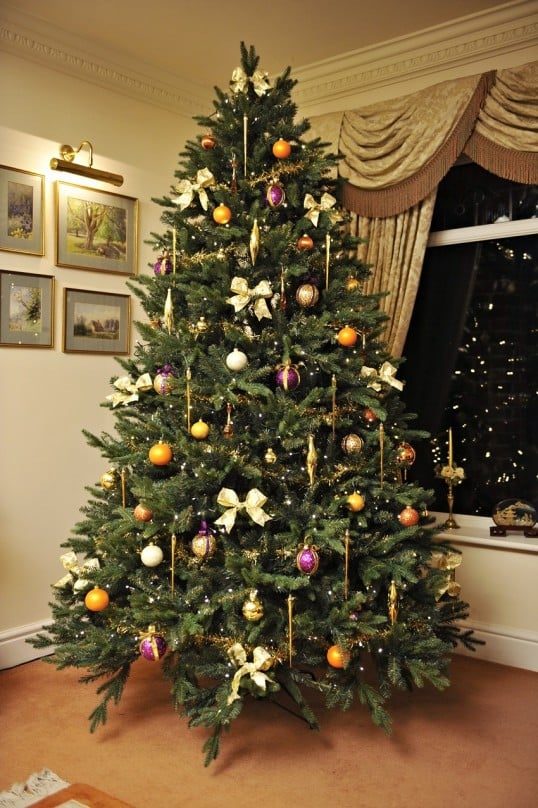 Most artificial trees will also last for as long as 10 years or more – all you need to do is take it out of the loft every year! A real tree, on the other hand, you're lucky to get at least one year out of it.
Upkeep & Maintenance
If you're looking for a hassle-free Christmas with no additional money spent on your Christmas tree's upkeep, an artificial tree is probably your safest bet. You'll also be able to decorate your tree however you like, without the worry of needles falling away from heavy baubles, or tinsel catching the delicate branches.
Artificial trees are also so much easier to store away and re-use, keeping it all intact for the next year. Christmas Tree storage bags ensure your tree is properly stored away and won't gather those pesky cobwebs!
Multiple Trees
A family home always looks magical at Christmas time when it's filled with Christmas decorations. Whether this be icicle lights hanging from the roof, or a beautiful Christmas tree complementing each major room. For most, a single tree in the living room isn't enough, and more and more people are seeking smaller, more elegant trees for window-sills, on their front porch, or even twinkling in their kitchen.
For choice and personalisation, artificial Christmas trees will tick all the boxes a real Christmas tree couldn't. Our artificial trees on the come in a range of sizes (from 3ft up to 20ft) in a variety of colours (pink, black, white, traditional) with different characteristics to make your Christmas home even more whimsical.
We have Christmas trees specifically for the outdoors, slim-line for tighter spaces, or with different modern designs such as blossom trees and fibre optic Christmas trees. The possibilities are quite simply endless.
Real vs Artificial Christmas Trees - Our Verdict
Artificial Christmas trees, on the whole, will save you more money than a real tree, but will still give you the realistic look you desire. That's why it's important to select your artificial tree from a respected retailer who only deal with quality trees using the finest material.