Each year at Christmas, you can bet at least one local council will hit the headlines for all the wrong reasons: their Christmas tree will be a disappointment.
National and local press, social media users, they'll all point out the same flaws - it isn't large enough, it looks half dead, or it looks like a scaffolding tower with a star on top. Choosing the correct Christmas tree is difficult for every local authority, especially if they don't have the largest budget or other priorities.
"We get a lot of last-minute enquiries for our Giant Artificial Outdoor Christmas Trees, and we've usually sold out by then," says Stephen Evans, Managing Director of Christmas Tree World.
So, what can be done? How can local councils and shopping centres avoid Christmas complaints? Read on to find out more…
What are the common issues with public trees?
There is often a rush for real Christmas trees by many local authorities at the last minute. This may be due to budget constraints or other demands on their time, but either way, it does not send a positive message to residents.
Another point is the misconception about public artificial trees. The most common being that they are a luxury or need to be an overly large size - not so. You can purchase an outdoor artificial tree which starts with a height of just 6ft.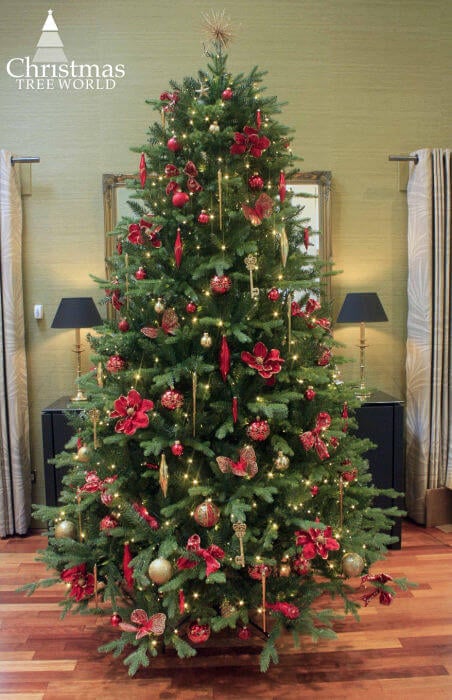 A rather frustrating point that we see brought up is the need for excessive cables and guy lines to keep the tree upright. This can limit viewing, make the surrounding area unsightly and not to mention dangerous.
This is all before we arrive at another issue with real trees - taking them down. Lights are tangled in amongst the branches, and you are forever having to cut the branches to take them off. It can be a nightmare!
There is another way, however…
What should I do this Christmas?
Christmas Tree World has designed an artificial tree that not only looks real but does not require lines to support it or a flat-bed lorry to deliver it.
Our Giant Outdoor Woodland Pine Trees sit directly on the ground and are assembled piece by piece. You can locate them almost anywhere, on cobbles, carparks, in fields or even in the centre of a roundabout!
Available in sizes from 13ft to 40ft, trees can be ordered either unlit or pre-lit. Depending on the size you choose, the trees are constructed off easy-to-erect steel frames with baubles ranging from 6cm to 30cm in diameter. This makes decorating easier, allowing it to be done at ground-level before the branches are fixed into place.
Using a pre-lit tree means hassle-free installing each year. However, at the end of the festive period, each branch section can be removed, the lights unplugged and then folded-up. Simply store the tree away, and it's ready for installing next year.
What should I consider when buying a tree for a public space?
There are a few crucial points to bear in mind if you're buying a large outdoor artificial Christmas tree for a public display. These are:
Remember your budget; an artificial tree can be seen as an investment over several years. You have a 10-year quality guarantee with Christmas Tree World.
Plan ahead: don't leave it until the last minute to get a Christmas tree because you could miss out and be left with a disappointing result.
Location: consider where you want to put your tree, you want it to be seen by as many vantage points as possible.
Size: not just the size of the tree but your audience. If you have a large crowd or a busy town centre, consider a slightly larger outdoor tree to reflect this.
If you follow these steps, you should find the perfect giant outdoor artificial Christmas tree for your public space and avoid potential pitfalls and online humiliation.
If you would like to learn more about our unique giant Christmas trees, including ready-made designs or to make your own, we're here to help.
Contact our expert sales team today to discuss size, styles and pricing.