It may be because Halloween's almost here or it could be because we're just trying to show off our latest additions, but either way we're feeling rather darkly festive over recent weeks.
Because while we understand that a fairy on top of the tree, your little one's circa 1994 home-made decorations and some pretty snowball lighting might be some people's idea of Christmas bliss, for others the idea of sickly sweet and delicate is just far too much to stomach.
You want tough, you want stylish and most of all you want a tree that flies in the face of convention. Here, in the section of the Christmas Tree World website cordoned off by a velvet curtain, we may have just the thing for the S&M* in you.
(*That's sophisticated and manly, by the way).
Yes we're talking about black Christmas trees. Not many dare, but at Christmas Tree World we're boldly stepping where no Christmas tree company has gone before to bring you a tree as black as the night (or blue, depending on your preference).
Here's a peak; new and exclusive.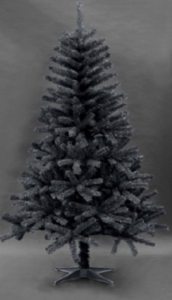 Phwoar!
So in celebration of our more unconventional blue/black, green/black range, we thought a little alternative Christmas inspiration was in order. Forget dry turkey and green trees, this is Christmas revamped!
Christmas dinner with all the trimmings: Venison and darkly delicious chocolate
This is one from Gordon's collection and we just have to make one thing clear: venison isn't reindeer. It's red deer and fallow. Squeamishness out the way, let's get on to the deliciousness!
This is a great recipe for creating a really special meal with a difference – plus venison has 1/3 of the fat of chicken and exceptionally high iron content, a luxe meal for the health conscious!
Serves 4-6
800g venison leg or shoulder, chopped into chunks
6 rashers of smoked bacon, chopped into strips
6 tablespoons of olive oil for frying
2 tablespoons of seasoned flour for sealing the meat
4 red onions, peeled and quartered
1 heaped tablespoon of chopped thyme
1 heaped tablespoon of chopped rosemary
2 bay leaves
700ml good quality red wine
300ml beef stock
30g good quality dark chocolate
40g butter
2 heaped tablespoons of redcurrant jelly
1 stick of celery, finely chopped
5 garlic cloves, peeled and crushed
1 small swede chopped into small chunks
6 chantenay carrots, split lengthways
Salt and pepper
1. Begin by pre-heating the oven to 160c. The aim is to cook this long and slow.
2. Heat half of the oil in a large oven proof dish on the hob and brown the bacon pieces until they turn golden and crispy. Remove the bacon and set aside while you brown the venison.
3. Toss the venison chunks in the seasoned flour and put back into the casserole dish to brown (you may need to add more oil at this point for frying). Once the meat is browned (you may need to do this in batches) set aside.
4. Add the final oil to the pan and add the red onions, garlic and celery. Cook for a couple of minutes before adding the vegetables and herbs. Turn the heat low and allow to cook for 10 minutes.
5. Return the meat to the casserole dish, pour over the red wine and bring to the boil. Add the beef stock and seasoning and bring back to the boil before placing a lid on the pan and transferring to the oven. Cook for around 1.5 – 2 hours.
6. Once cooked and tender, remove from the oven and (carefully!) strain the meat and vegetables through a sieve in order to separate the liquid.
7. Pour the liquid into a saucepan and bring to the boil. Ensure the meat and vegetables are placed back in the casserole dish to keep warm.
8. Once the liquid is boiling, whisk in the redcurrant jelly. Turn down the heat and then add the butter and chocolate. Add the chocolate slowly to avoid it going grainy.
9. Pour the sauce back over the venison and vegetables and serve with roast potatoes and carrot and swede mash.
Gifts of the unconventional variety
You could give them slippers, or you could go against the grain and choose something a little more white knuckle. We were thinking:
Skydiving – either indoor or outdoor (think the former for smaller budgets).
Silverstone white knuckle passenger ride – terrifying and perfect for motorsports fans.
Coasteering – What is coasteering you ask? Coasteering is basically an all encompassing term for wet and wild, leaping off cliffs, clambering up sheer rock faces and swimming into caves. You may also come across 'Ghyll Scrambling' which is basically clambering up mountain springs.
So that's our Christmas with a difference, what do you think, are we suitably deviant or do you have something even more quirky planned?
Let us know on Facebook and in the meantime check out our full range of luxury black Christmas trees. Equally if you're already the proud owner of a black tree, then please feel free to send us a photo of your tree dressed to the nines!
Pre-Christmas wishes,
Christmas Tree World