Artificial or real Christmas trees, it's been a long-running debate with both having their own benefits. We're obviously biased, but if you want to save money at the festive season, an artificial Christmas tree is a wise investment.
Whether you're after a large or small Christmas tree for your business, you might want to consider professional help when it comes putting it up.
Florists are an area witnessing incredible growth in demand for Christmas trees, thanks to their keen eye for decoration, good organisation and quick work. The number of florists placing orders for the amount of artificial trees, and the average height of a tree, are growing.
"Supplying florists with artificial Christmas Trees is one of our fastest-growing sectors", says Stephen Evans, managing director of Christmas Tree World.
Read on to discover why an artificial tree is best for your business and why a florist is a worthwhile Christmas investment…
Why should I hire a florist at Christmas?
Florists are being called upon, not only by businesses local to them but also nationally to create stunning seasonal settings.
Christmas has become a much busier time for firms when it comes to creating a festive feel to their commercial space. This could be your office desk area, lobby or shop window - it all adds up and professional help, by florists, is a growing trend.
Many of the florists we collaborate with tell us that they are working through the night, putting up trees in hotels, bars and restaurants, as well as many offices to create a Christmas surprise. Their efficiency of work with artificial trees, as well as takedown services at the end of the festive period, is a major reason many are turning to their local florist.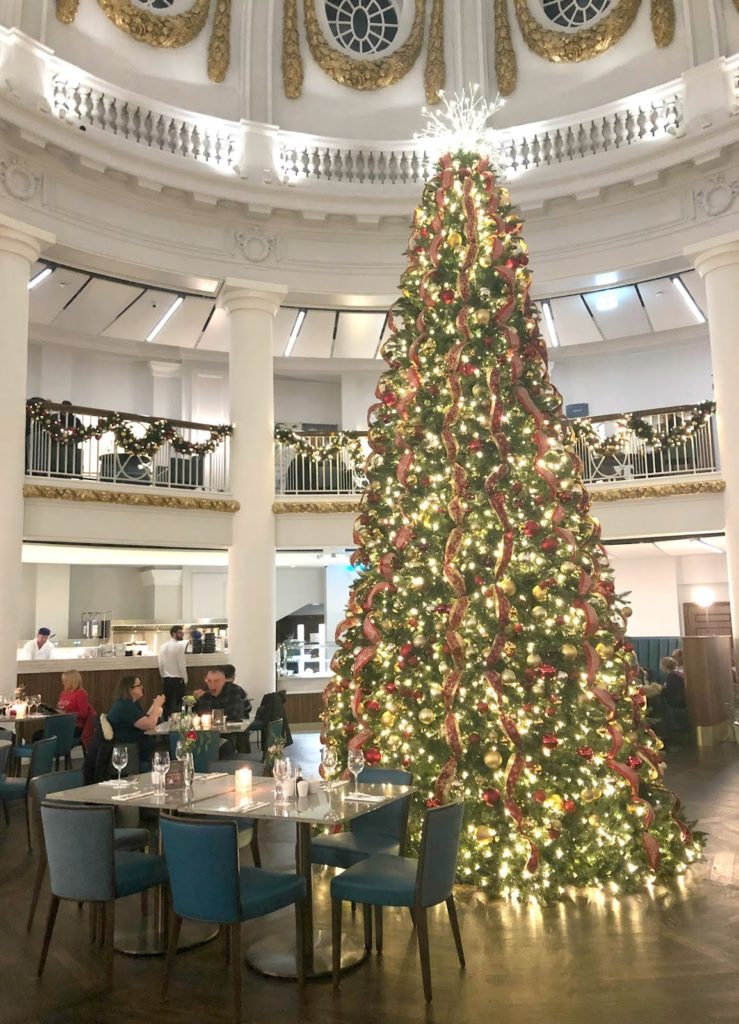 "It is lovely when we get sent photographs from some of our florist customers, showing us what they have achieved with our trees. Some of the decorations are a far cry from the ordinary", adds Stephen.
Read below for a florist's view of why artificial trees are a better investment for your business…
Why is an artificial Christmas tree better than a real one?
The main reason an artificial Christmas tree is better than a real one is quite simple, for businesses and at home - there's less hassle.
Read about how your business can save money this Christmas
Real trees can be cumbersome to erect, damaging doors and floors when installing them throughout your commercial space. This issue is increased by dropping needles everywhere which can damage carpets with excessive moisture.
Disposal of a tree once it dies - consider this when buying, some types of tree will not last as long as others - can cost time and money. Not to mention, if they dry too much, they can become a fire hazard.
Learn more about artificial and real Christmas trees in our dedicated guide
Artificial Christmas trees are far cleaner to use than a real tree, there are no needles to start with or excess moisture and potential sawdust. You want this to be a quick and clean process when it comes to erecting and taking down a tree.
Artificial trees can be styled and customised. For instance, you can choose the shape of your tree to fit the required space. They can be full, compact, slim or half trees. The same goes for lighting, having the option of a pre-lit tree saves time and effort.
If you consider these important points you should find the perfect artificial Christmas tree for your commercial space and avoid potential pitfalls and online humiliation.
If you would like to learn more about our unique commercial Christmas trees, including ready-made designs or to make your own, we're here to help.
Contact our expert sales team today to discuss size, styles and pricing.